Million Dollar Screw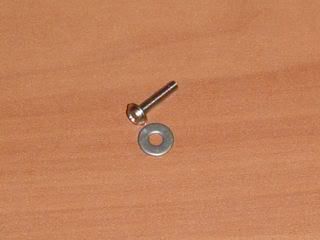 Not the real screw or washer – just for effect
No, this is not another story on Russia's "sex-cult." It is a story on how some companies take advantage of the government. From contractors to welfare line addicts, some get this million over a life-time of not working, others get it by shipping priority during a time of war and the costs are immediately paid.
Pentagon Paid $998,798 to Ship Two 19-Cent Washers (Update3)
By Tony Capaccio
Aug. 16 (Bloomberg) -- A small South Carolina parts supplier collected about $20.5 million over six years from the Pentagon for fraudulent shipping costs, including $998,798 for sending two 19-cent washers to an Army base in Texas, U.S. officials said.
The company also billed and was paid $455,009 to ship three machine screws costing $1.31 each to Marines in Habbaniyah, Iraq, and $293,451 to ship an 89-cent split washer to Patrick Air Force Base in Cape Canaveral, Florida, Pentagon records show.
The owners of C&D Distributors in Lexington, South Carolina -- twin sisters -- exploited a flaw in an automated Defense Department purchasing system: bills for shipping to combat areas or U.S. bases that were labeled ``priority'' were usually paid automatically, said Cynthia Stroot, a Pentagon investigator.
C&D and two of its officials were barred in December from receiving federal contracts. Today, a federal judge in Columbia, South Carolina, accepted the guilty plea of the company and one sister, Charlene Corley, to one count of conspiracy to commit wire fraud and one count of conspiracy to launder money, Assistant U.S. Attorney Kevin McDonald said. ….
…``C&D was a rogue contractor,'' Stroot said. While other questionable billing has been uncovered, nothing came close to C&D's, she said. The next-highest billing for questionable costs totaled $2 million, she said.
Stroot said the Pentagon hopes to recoup most of the $20.5 million by auctioning homes, beach property, jewelry and ``high- end automobiles'' that the sisters spent the money on.
``They took a lot of vacations,'' she said.