The latest nationwide survey, begun Friday afternoon after the McCain announcement of Palin as running mate and completed mid-afternoon today, shows
McCain/Palin at 47%, compared to 45% support for Obama/Biden....


....
PRINCETON, NJ -- Barack Obama maintains an eight percentage point lead over John McCain when registered voters nationwide are asked whom they would vote for in the presidential election if it were held today, according to the latest
Gallup Poll Daily tracking
figures.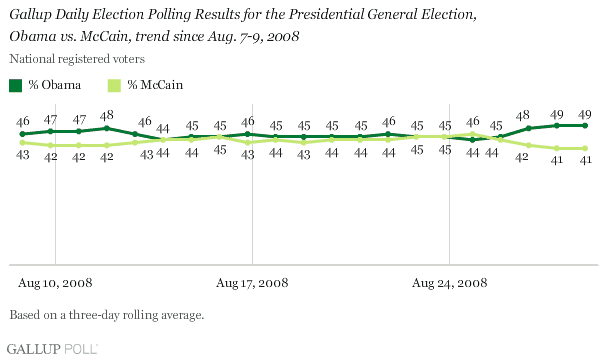 With 49% of the vote,
Obama has tied his high
for the campaign to date. (To view the complete trend since March 7, 2008,
click here
.) He has received a boost in the polls coming out of the Democratic Party's convention this week, at which he became the first African-American to be nominated as the presidential candidate of a major political party....