New York -- Proof of Global Warming?

I had someone on my MySpace site throw the temperatures in New York in my face and claim its proof of global warming. So I will quote this person here and respond for my BlogSpot readers.

Hey it's 70 in NYC on 1/6/07. Nothing to worry about right? Not real? Wake up! We are all screwed. Buy a boat. Move to high ground. It's REAL! ~ Gary
Take note that in the 8th century AD, the
Roman Empire
grew grapes used for wine on the slopes of Salisbury Plain in the
United Kingdom
.
The
UK
was the warmest it had ever been (in the written record); after this period came a cooling period.
These periods went up and down and will continue to go up and down.
The
Vikings
raiding and traveling the seas was made possible by the now frozen "
Greenland
" actually living up to its name.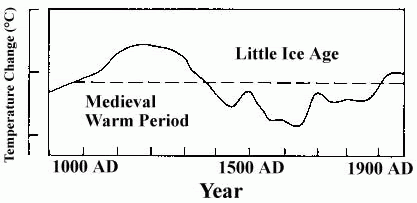 I wonder if the fellow who made the inane statement about New York proving Global Warming would argue that Enron and the oil cartel conspiring to build SUV's caused the Romans to make wine or maybe the raping and pillaging is caused by car pollution and Bush's Cabinet. Maybe, just maybe.

The very warm climate during the MWP allowed this great migration to flourish. Drift ice posed the greatest hazard to sailors but reports of drift ice in old records do not appear until the thirteenth century (Bryson, 1977.) The warmer climate would also result in a greater harvest in Iceland than would be experienced today so the land must have looked more inviting in the past than it does today.




The Norse peoples traveled to Iceland for a variety of reasons including a search for more land and resources to satisfy a growing population and to escape raiders and harsh rulers. One force behind the movement to Iceland in the ninth century was the ruthlessness of Harald Fairhair, a Norwegian King (Bryson, 1977.)



Obviously the facts about global warming are and the historic change in climate is being used for political aims. Political aims that Gary may not be aware of, but political aims that Gary is supporting in his ignorance, nonetheless.