Slashing Tires in the Name of Justice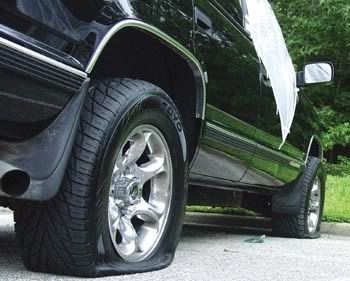 Just an interesting story out of Colorado thanks to "Sweetness & Light" This person is probably from the party of tolerance and understanding in the midst of a "peace" protest… … by himself.
Tire Slashing War Protestor Charged with Felony
By Brynn Grimley
Monday, July 30, 2007
PORT ORCHARD - The 19-year-old Bremerton man who slashed 42 government tires in retaliation of the Iraq war was charged with a Class B felony Monday in Kitsap County Superior Court.
Jason C. Chavez, currently a student at a Colorado college, was charged with first degree malicious mischief for causing more than $4,200 worth of damage to 13 government service vehicles that were parked in front of the U.S. Army recruiting business in Silverdale…
Just after midnight on July 29 Chavez was seen slashing tires in the parking lot along the 2800 block of Bucklin Hill Road. Witnesses called 911 to report a man dressed in black was slashing tires in front of the Army recruiting office with a knife.
When deputies arrived Chavez ran, then stopped near the Staples building across the parking lot and put his hands in the air. At the time he dropped a butterfly knife from his pocket, according to Kitsap County Sheriff's Office reports.
When deputies arrested him, Chavez asked "is this the time where I can confess?" He proceeded to tell deputies he specifically identified government cars and slashed the tires because he "hated the military and the government and the war we were in," according to reports…
When Chavez was arrested Sunday deputies smelled alcohol and asked him to take a portable breath test. He complied and blew a 0.168, more than double the legal driving limit.
Chavez told deputies he would have slashed the tires, sober or not, according to the report.
He also said if he was in Iraq he would kill everyone fighting on the American side, adding that he believed the actions of the government were "unjust and wrong."