Faith-Based Society Healthier, Lives Longer
I have re-entered the debate world and I wanted to post this response to someone who thought that the "fortunes" of Christians are the same as non-beleivers. You must keep in mind that prayer is also part of these persons lives, and if their lives are better (mentaly, physically, etc), then prayer really does work.

Quote:
Originally Posted by Jagella
Regarding the untruth of Christianity, many of its fundamental claims are demonstrably false. Take prayer, for instance. It's no more effective than using a rabbit's foot for good luck. If Christianity was true, then we'd see an obvious difference between the fortunes of Christians an others. We don't see much of a difference, and what differences we my see, are that prayer is actually detrimental. People who work for their goals are much more likely to achieve those goals than people who waste their time praying.
Jagella
I wish to point out a great article that discusses the positive outcome of religious belief, followed by many examples taken originally from a list of three-hundred such studies. I think this is ample proof that religious faith is superior to non-faith in many aspects:
Dennis Prager, Michael Medved, and other hosts I listen to frequently quote from these studies in their "proof" that religion matters. And it matters in the positive.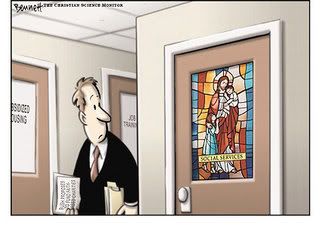 Quote:
Social Scientists Agree:
Religious Belief Reduces Crime Summary of the First Panel Discussion Panelists for this important discussion included social scientists Dr. John DiIulio, professor of politics and urban affairs at Princeton University; David Larson, M.D., President of the National Institute for Healthcare Research; Dr. Byron Johnson, Director of the Center for Crime and Justice Policy at Vanderbilt University; and Gary Walker, President of Public/Private Ventures. The panel focused on new research, confirming the positive effects that religiosity has on turning around the lives of youth at risk.
Dr. Larson laid the foundation for the discussion by summarizing the findings of 400 studies on juvenile delinquency, conducted during the past two decades. He believes that although more research is needed, we can say without a doubt that religion makes a positive contribution.
His conclusion: "The better we study religion, the more we find it makes a difference." Previewing his own impressive research, Dr. Johnson agreed. He has concluded that church attendance reduces delinquency among boys even when controlling for a number of other factors including age, family structure, family size, and welfare status. His findings held equally valid for young men of all races and ethnicities.
Gary Walker has spent 25 years designing, developing and evaluating many of the nation's largest public and philanthropic initiatives for at-risk youth. His experience tells him that faith-based programs are vitally important for two reasons. First, government programs seldom have any lasting positive effect. While the government might be able to design [secular/non-God] programs that occupy time, these programs, in the long-term, rarely succeed in bringing about the behavioral changes needed to turn kids away from crime. Second, faith-based programs are rooted in building strong adult-youth relationships; and less concerned with training, schooling, and providing services, which don't have the same direct impact on individual behavior. Successful mentoring, Walker added, requires a real commitment from the adults involved – and a willingness to be blunt. The message of effective mentors is simple. "You need to change your life, I'm here to help you do it, or you need to be put away, away from the community." Government, and even secular philanthropic programs, can't impart this kind of straight talk.
Sixth through twelfth graders who attend religious services once a month or more are half as likely to engage in at-risk behaviors such as substance abuse, sexual excess, truancy, vandalism, drunk driving and other trouble with police. Search Institute, "The Faith Factor," Source, Vol. 3, Feb. 1992, p.1.
Churchgoers are more likely to aid their neighbors in need than are non-attendees. George Barna, What Americans Believe, Regal Books, 1991, p. 226.
Three out of four Americans say that religious practice has strengthened family relationships. George Gallup, Jr. "Religion in America: Will the Vitality of Churches Be the Surprise of the Next Century," The Public Perspective, The Roper Center, Oct./Nov. 1995.
Church attendance lessens the probabilities of homicide and incarceration. Nadia M. Parson and James K. Mikawa: "Incarceration of African-American Men Raised in Black Christian Churches." The Journal of Psychology, Vol. 125, 1990, pp.163-173.
Religious practice lowers the rate of suicide. Joubert, Charles E., "Religious Nonaffiliation in Relation to Suicide, Murder, Rape and Illegitimacy," Psychological Reports 75:1 part 1 (1994): 10 Jon W. Hoelter: "Religiosity, Fear of Death and Suicide Acceptibility." Suicide and Life-Threatening Behavior, Vol. 9, 1979, pp.163-172.
The presence of active churches, synagogues… reduces violent crime in neighborhoods. John J. Dilulio, Jr., "Building Spiritual Capital: How Religious Congregations Cut Crime and Enhance Community Well-Being," RIAL Update, Spring 1996.
People with religious faith are less likely to be school drop-outs, single parents, divorced, drug or alcohol abusers. Ronald J. Sider and Heidi Roland, "Correcting the Welfare Tragedy," The Center for Public Justice, 1994.
Church involvement is the single most important factor in enabling inner-city black males to escape the destructive cycle of the ghetto. Richard B. Freeman and Harry J. Holzer, eds., The Black Youth Employment Crisis, University of Chicago Press, 1986, p.354.
Attending services at a church or other house of worship once a month or more makes a person more than twice as likely to stay married than a person who attends once a year or less. David B. Larson and Susan S. Larson, "Is Divorce Hazardous to Your Health?" Physician, June 1990. Improving Personal Well-Being
Regular church attendance lessens the possibility of cardiovascular diseases, cirrhosis of the liver, emphysema and arteriosclerosis. George W. Comstock amd Kay B. Patridge:* "Church attendance and health."* Journal of Chronic Disease, Vol. 25, 1972, pp. 665-672.
Regular church attendance significantly reduces the probablility of high blood pressure.* David B. Larson, H. G. Koenig, B. H. Kaplan, R. S. Greenberg, E. Logue and H. A. Tyroler:* " The Impact of religion on men's blood pressure."* Journal of Religion and Health, Vol. 28, 1989, pp.265-278.* W.T. Maramot:* "Diet, Hypertension and Stroke." in* M. R. Turner (ed.) Nutrition and Health, Alan R. Liss, New York, 1982, p. 243.
People who attend services at least once a week are much less likely to have high blood levels of interlukin-6, an immune system protein associated with many age-related diseases.* Harold Koenig and Harvey Cohen, The International Journal of Psychiatry and Medicine, October 1997.
Regular practice of religion lessens depression and enhances self esteem. *Peter L. Bensen and Barnard P. Spilka:* "God-Image as a function of self-esteem and locus of control" in H. N. Maloney (ed.) Current Perspectives in the Psychology of Religion, Eedermans, Grand Rapids, 1977, pp. 209-224.* Carl Jung: "Psychotherapies on the Clergy" in Collected Works Vol. 2, 1969, pp.327-347.
Church attendance is a primary factor in preventing substance abuse and repairing damage caused by substance abuse.* Edward M. Adalf and Reginald G. Smart:* "Drug Use and Religious Affiliation, Feelings and Behavior." * British Journal of Addiction, Vol. 80, 1985, pp.163-171.* Jerald G. Bachman, Lloyd D. Johnson, and Patrick M. O'Malley:* "Explaining* the Recent Decline in Cocaine Use Among Young Adults:* Further Evidence That Perceived Risks and Disapproval Lead to Reduced Drug Use."* Journal of Health and Social Behavior, Vol. 31,* 1990, pp. 173-184.* Deborah Hasin, Jean Endicott, * and Collins Lewis:* "Alcohol and Drug Abuse in Patients With Affective Syndromes."* Comprehensive Psychiatry, Vol. 26, 1985, pp. 283-295. * The findings of this NIMH-supported study were repilcated in the Bachmen et. al. study above.
__________________

"Since women that believe in God are less likely to have abortions, does that mean that natural selection will result in a greater number of believers than non-believers. The fittest survive?"