Environmental Whacko's!!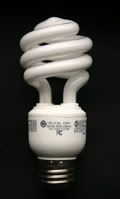 Just heard this story on the radio. These light bulbs (CFL, compact fluorescent lights) are suppose to be the next-best thing in fighting global warming. However, there can be unwanted side effects to owning these "miracles."
I want to post what a couple sites says of them:
These articles should be titled "How to Make Tuna Uneatable!", or, "Polluting Our Oceans."
Chaos and Chicanery I tell you!
UPDATE
I am posting a list of "how to clean up a mercury spill" from SNOPES