Here We Go – IRAQ
I hope Rice gives em' a whooping! Or will the Republicans grow their jelly fish spine?
House panel votes to subpoena Rice on Iraq
Wed Apr 25, 2007
Washington (Reuters) - U.S. Democratic lawmakers voted on Wednesday to subpoena Secretary of State Condoleezza Rice to testify about administration justifications for the U.S. invasion of Iraq in 2003.
On a party-line vote of 21-10, the House of Representatives' Oversight and Government Reform Committee directed Rice to appear before the panel next month.
Republicans accused Democrats of a "fishing expedition." But Democrats said they want Rice to explain what she knew about administration's warnings, later proven false, that Iraq had sought uranium from Niger for nuclear arms.
"There was one person in the White House who had primary responsibility to get the intelligence about Iraq right -- and that was Secretary Rice who was then President George W. Bush's national security adviser," said committee Chairman Henry Waxman, a California Democrat.
"The American public was misled about the threat posed by Iraq, and this committee is going to do its part to find out why," Waxman said.
Oh I can't waith! I say this because if I were in her place I would love to hit the Democrats where it counts. In their "collective" thinking. On Uranium and niger I pulled this (I got the following from
…..A British intelligence review released July 14 calls Bush's 16 words "well founded."
A separate report by the US Senate Intelligence Committee said July 7 that the US also had similar information from "a number of intelligence reports," a fact that was classified at the time Bush spoke.
Ironically, former Ambassador Joseph Wilson, who later called Bush's 16 words a "lie", supplied information that the Central Intelligence Agency took as confirmation that Iraq may indeed have been seeking uranium from Niger.
Both the US and British investigations make clear that some forged Italian documents, exposed as fakes soon after Bush spoke, were not the basis for the British intelligence Bush cited, or the CIA's conclusion that Iraq was trying to get uranium…….
…..The "16 words" in Bush's State of the Union Address on Jan. 28, 2003 have been offered as evidence that the President led the US into war using false information intentionally. The new reports show Bush accurately stated what British intelligence was saying, and that CIA analysts believed the same thing.
The Butler Report
After nearly a six-month investigation, a special panel reported to the British Parliament July 14 that British intelligence had indeed concluded back in 2002 that Saddam Hussein was seeking to buy uranium. The review panel was headed by Lord Butler of Brockwell, who had been a cabinet secretary under five different Prime Ministers and who is currently master of University College, Oxford.
The Butler report said British intelligence had "credible" information -- from several sources -- that a 1999 visit by Iraqi officials to Niger was for the purpose of buying uranium:
Butler Report: It is accepted by all parties that Iraqi officials visited Niger in 1999. The British Government had intelligence from several different sources indicating that this visit was for the purpose of acquiring uranium. Since uranium constitutes almost three-quarters of Niger's exports, the intelligence was credible.
The Butler Report affirmed what the British government had said about the Niger uranium story back in 2003, and specifically endorsed what Bush said as well.
Butler Report: By extension, we conclude also that the statement in President Bush's State of the Union Address of 28 January 2003 that "The British Government has learned that Saddam Hussein recently sought significant quantities of uranium from Africa" was well-founded……
I am sure that they (the Democrats) will go right toi Weapons of Mass Destruction as a fallback. Saddam had broken almost every condition for the cease fire agreement brokered by the U.N. between the U.S. and Iraq. In fact, the picture below is chemicals that are key to making WMDs. These were found in a safe house along with a chemist that worked for Saddam's government.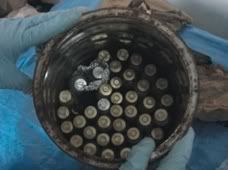 Dr. Mahdi Obeidi, one of Saddam's main nuclear scientists, had buried in his backyard the capacity to build uranium-enriching gas centrifuges. It isn't that Saddam had the entire nuclear program under his belt – plans, processes, equipment, and the like. It is that he had enough of it to pass on to terrorists with whom he allied himself. At any rate, hiding centrifuges in a garden was in direct violation to the cease-fire treaty signed by both parties.
A really good synopsis of the uranium "thing" (and Armitage) can be found in a video of the
I suggest watching this discussion as part of your journey to see where Democrats often fail on security matters and the facts involved in them.
Also take note of the Daily News article that includes this checklist:
A clandestine network of laboratories and safehouses within the Iraqi Intelligence Service that contained equipment subject to UN monitoring and suitable for continuing CBW research.
A prison laboratory complex, possibly used in human testing of BW agents, that Iraqi officials working to prepare for UN inspections were explicitly ordered not to declare to the UN.
Reference strains of biological organisms concealed in a scientist's home, one of which can be used to produce biological weapons.
New research on BW-applicable agents, Brucella and Congo Crimean Hemorrhagic Fever (CCHF), and continuing work on ricin and aflatoxin were not declared to the UN.
Documents and equipment, hidden in scientists' homes, that would have been useful in resuming uranium enrichment by centrifuge and electromagnetic isotope separation (EMIS).
A line of UAVs not fully declared at an undeclared production facility and an admission that they had tested one of their declared UAVs out to a range of 500 km, 350 km beyond the permissible limit.
Continuing covert capability to manufacture fuel propellant useful only for prohibited SCUD variant missiles, a capability that was maintained at least until the end of 2001 and that cooperating Iraqi scientists have said they were told to conceal from the UN.
Plans and advanced design work for new long-range missiles with ranges up to at least 1000 km - well beyond the 150 km range limit imposed by the UN. Missiles of a 1000 km range would have allowed Iraq to threaten targets through out the Middle East, including Ankara, Cairo, and Abu Dhabi.
Clandestine attempts between late-1999 and 2002 to obtain from North Korea technology related to 1,300 km range ballistic missiles --probably the No Dong -- 300 km range anti-ship cruise missiles, and other prohibited military equipment.
And a list coming from an investigative author is as follows:
Found: 1.77 metric tons of enriched uranium
Found: 1,500 gallons of chemical weapons
Found: Roadside bomb loaded with sarin gas
Found: 1,000 radioactive materials--ideal for radioactive dirty bombs
Found: 17 chemical warheads--some containing cyclosarin, a nerve agent five times more powerful than sarin
The update to these is of course the following: 750 serine gas tipped shells were uncovered, of which about 15 of them killed 5,000 people (at Iraqi hands years ago).
As for where much of the weapons went. I saw a general the other day still mentioning those truck from Russia moving stuff north. The following old-story would seem to bolster this view:
Al-Qaeda-linked terrorists planned a chemical attack on Jordan's spy headquarters that could have killed 20,000 people, officials have said.

Earlier this week King Abdullah said a massive attack had been thwarted by a series of arrests, but named no target.

Now unnamed officials say the suspects have confessed to plotting to detonate a chemical bomb on the Amman HQ of the Intelligence Services.

The plot was reportedly hatched by al-Qaeda suspect Abu-Musab al-Zarqawi.

Washington has accused the 38-year-old Jordanian radical of masterminding a string of spectacular suicide bombings in Iraq.

'Deadly gas'

An official involved in the inquiry in Jordan told AFP news agency: "We found primary materials to make a chemical bomb which, if it had exploded, would have made nearly 20,000 deaths ... in an area of one square kilometre."
These massive amounts of base chemicals came from Syria. So I think we already had a connection with what disappeared over the border and them popping up, so-to-speak.
I hope Condi shows some toughness with these crackpots!